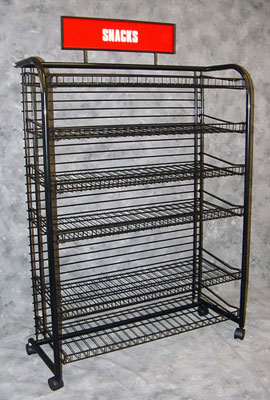 E System Sales, Inc. provides many styles of Candy Display Racks for a counter, free standing, floor displays all configured of wire. What are Candy Display Racks? Candy Display Racks are a wire type rack designed to display multiple packs or boxes of bulk candy. The Candy Display Racks we provide a constructed of all wire steel coated with a heat and magnetic applied powder coating designed to last the test of time.

51 3/4" High X 13" Deep X 38 3/8"
Long with Casters Complete with 6 Adjustable Shelves
Shelf: 35" Long X 12" Deep with a 1 1/2" Front Fence
Includes 5-1/2 X 22 sign holder with 2 3" Risers
Available in Red, black or White. P/N TA6007
For orders of more then 1 please call 800-619-9566 for quantity and shipping discounts
$225 each - 2-3 $175 each - 4 and Up $160 each
---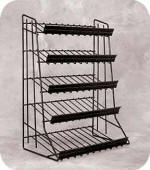 Countertop Candy Display - Great for candy: gum or small gift items
Shelf depth range from 4 1/2 inch deep to 8 1/2 inch deep
Measures: 21" High x 15" Wide x 9" Deep
Each tier includes welded sign channel
14" Wide x 1 1/2" High -
Color: Black.
P/N SB0-252
---
Counter Snack Rack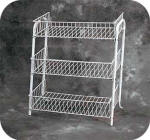 Snack Rack Features: • 3 - tiers • Ships flat • Easy assembly • Compact design
Size: 22" High x 21" Wide x 11"D
Color: White.
P/N SB0-249
---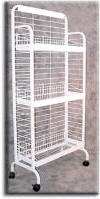 3/4" square tube frame for strength.
Accepts grid mount hooks.
3-Adjustable Shelves: 9-3/16" Deep x 26" Wide with 2" flat plate metal pricing lip.
61-1/2" High x 11" Deep x 28-1/2" Wide with welded 2" x 24" flat plate at top of rack.
Ideal for all snack carton products and candies. P/N TA6001
---
Counter Gum Rack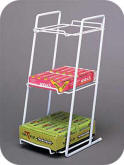 Boxed Goods Counter Rack Features: • Designed to accomodate a wide variety of boxed goods • Great for candy, trading cards, lighters, etc.... • Front lip keeps box in place • 3 Tiers high Size: 13½"H x 6¼"W x 6½"D Color: White. P/N SB1-403
---
Multi Purpose Counter Display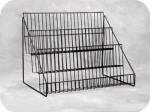 3 - Tier Counter Display Features: • 3 - Levels • Each Level is 4" Deep • Wire Welded Construction • Great for bulky boxed items
Size: 18 ½" High x 24" Wide x 15" Deep
Color: Black
P/N SB1-521